Choosing a wedding venue might be your most important decision
Preparing for a wedding is a huge project! Friends and family often pitch in to help get it all done, from the invitations to the decorations and everything in between. However, one of the most important decisions you will make is choosing the wedding venue. There are two basic options: weddings either have the ceremony and reception in different locations; or all of the festivities in the same location, if the space will allow.
But how do you choose a wedding venue in Columbia, SC? What makes it the perfect place for you? Here's a quick and helpful guide of 6 things to consider to pick the best wedding event space.
The right size for your guest list
First and foremost, the location needs to be big enough for your guest list. No matter how beautiful or familiar, the last thing you want is a favorite aunt or cousin without a seat at your ceremony or a place at your reception tables. Make sure that every invited family member will have space. If you have a small family, you can choose from a variety of smaller venues. For a large gathering of friends and family, you will likely need a more spacious venue for both your ceremony and your reception.
Fortunately, wedding venues can always tell you how many their space can comfortably accommodate, so sorting by guest list size is easy.  
The perfect ambiance for your decor
You know what your wedding should look like, and you want a breathtaking space. When shopping for a wedding event space in Columbia, SC, however, remember that these spaces are beautiful, but neutral, by default so that every wedding can be unique. Don't just look for a gorgeous space, look for the right ambiance to hold the decor you want to create.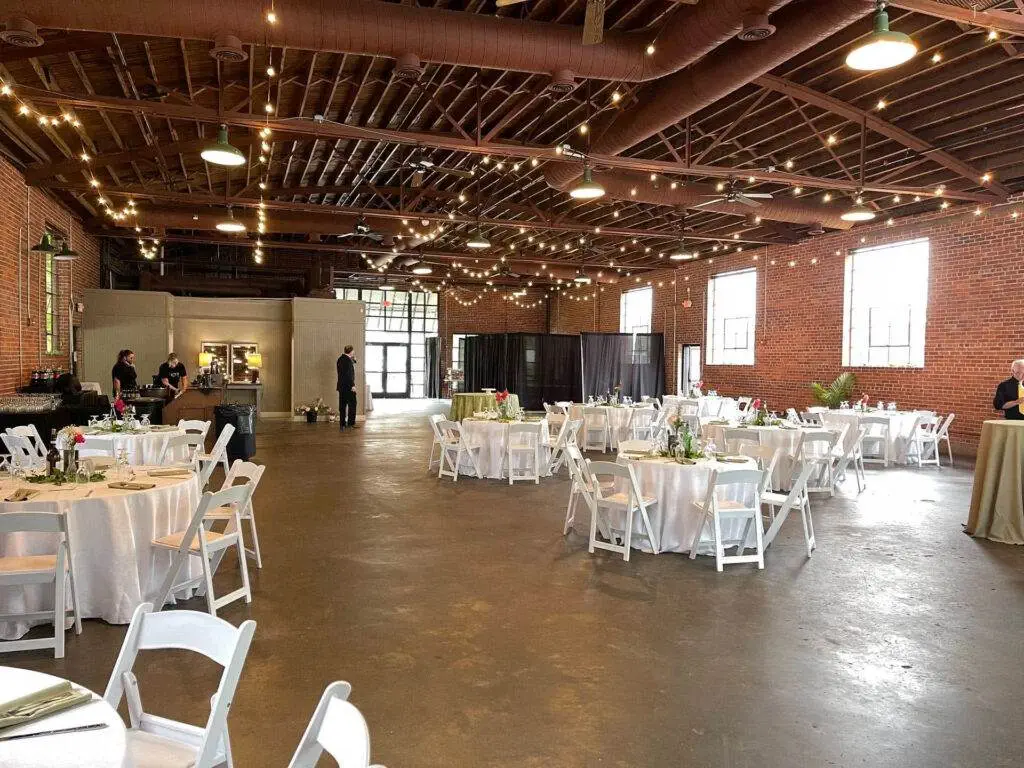 Consider what you need space for. Seek room for a dance floor if you plan reception dancing, and room for dining room tables or buffet dining based on your plans.
Envision your wedding, then imagine that decoration in each venue you tour. This way, you can determine just how perfect the space will be for your wedding's style and event experience.
Great wedding packages and services
For wedding couples looking to go big or planning on a budget (or both!), wedding packages are the thing. Great venues offer not just floor space, but a full wedding experience. Exclusive caterers can provide you with an exceptional wedding feast, cake, and hors-d'oeuvres at a better price than hiring external catering services – and with a smooth delivery style that comes with knowing the venue kitchens and event space by heart.
Some event spaces in Columbia, SC will provide tables and chairs, or help you decorate, with a selection of wedding-color table linens and drapes. Some have fun wedding stations like games, DIY snacks, as well as tended bars available on request, or as part of a larger package. Always ask about the wedding packages and don't be shy to ask about customization. Some wedding packages can and some cannot be altered. However, they are almost always a good deal – especially as individual vendor prices rise.
Close to your ceremony/reception venue
If you are booking two wedding venues for the ceremony and reception, make sure they're close together. This way, you minimize travel issues and time lost to travel on the big day. Better yet, look for event spaces where you can host a breathtaking ceremony in an outside wedding garden and a wild reception at the same location. Save on transport and potential problems like wardrobe malfunctions and parking pileups when transitioning from saying your vows to kicking up your heels.
While thinking about transport, don't forget that a hotel nearby is also essential. Minimize travel and make wardrobe changes easy by carefully pairing your ceremony, reception, and guest lodgings in a close area.
Collaboration with your vendors
Many wedding couples will need to coordinate their venue with their vendors. Have a specialty wedding cake or private DJ coming in? You need an event space that can work with third-party vendors smoothly. Your wedding venue may have a special entrance for vendor deliveries like fresh flowers or a very large cake, which can help with smooth operations as guests come and go from the front entrance.
Talk to your potential venues about how they can coordinate with third-party vendors.
Bridal suite preparation space
Finally, make sure you have a bridal suite. The bridal suite is essential to help the wedding party get ready for the ceremony and take care of necessary wardrobe changes for the reception. The bridal suite is also a quiet retreat for big emotions on the wedding day, and to fix any last-minute wardrobe mishaps for any member of the bridal party. Just ask about bridal suite access as part of your wedding venue inquiries.
Consider all options before making a final decision
How do you choose the best wedding venue for your Columbia, SC nuptials? Look for size, style, location, wedding packages, a bridal suite, and their ability to coordinate with your third-party vendors. To find out more about our selection of wedding venues in Columbia SC, contact us today!